701 Fitness is available to all tenants of the 701 Carlson building. For just a $15, one-time fee, tenants can become fitness center members. 701 Fitness is run by EXOS; the pioneer the field of integrated human performance. 701 Fitness offers:
Access to knowledgeable staff
Group exercise classes (currently virtual)
Wellness Sessions
Digital Coaching
Access to Wellbeats classes
Creative and engaging onsite and virtual incentive programming
Ongoing health promotion and health education programming
Equipment orientations
Access to our top of the line equipment
To schedule a tour or for more information, please email: fitness@701tower.com
If you are ready to join, click the membership button below!
To become a member, please register on MINDBODY today! All 701 Carlson employees are eligible to enroll with a one-time, $15 registration fee, and no recurring monthly dues! When you register, please select "subscribe to news and promo emails" if you would like to receive our weekly email that includes information about our current virtual offerings.
Please select your company's unique link to register:
 Workout Reservations 
To keep all our members and staff safe, we are limiting the capacity to 4 in each time slot. To sign up for a workout reservation, sign in to MINDBODY by selecting your company's URL:
Once you sign in to your account, click on the "workout reservations" at the top of the page. Select the time slot and days you would like to workout. If you are unable to workout at the time you have chosen, please make sure to sign back in and cancel your registration or email us to cancel for you. Thank you and we can't wait to see you soon!
Facility Procedures 
Face masks are required at all times, including when you are exercising. Please be sure to wear a mask that fits well and stays in place when you are exercising.  
Please stay at least 6 feet apart from staff and other members. 
Showers are available! Please bring your own towel. Lavatories are open. Locker rooms are limited to 2 people at a time.
Please clean your equipment before and after use and put small equipment you use at a cleaning station for staff to sanitize after your workout. 
Thank you for helping us keep all members and staff safe at 701 Fitness! 
Q1 2021 Group Fitness Schedule 
1/4/21 - 4/2/21
The password to all our classes on Zoom is 701Fitness. Join the class by clicking the class name at the time of the class. If you would like to receive the recurring calendar invites for specific classes, please email us.
Express Abs:
This 15-minute express class will challenge your whole core! This class is ideal for those who want to take their ab training to the next level. 
EXOS WOD:
Grab your dumbbells or a weighted backpack and be ready to work hard during this 35-minute EXOS WOD (workout of the day). Come ready for anything, we will mix it up and complete AMRAPs, EMOMs, or intervals during this class. Jump right into Express Abs after class to get in a full-body workout!
Low Impact Workout:
Get up and get moving with our 35-minute low-impact workout. This foundational, total-body workout combines bodyweight strength, weights,  and mobility to invigorate, not annihilate. This workout is perfect for those who are new to circuit training or those who need a less intense, mobility day that still gets their heart pumping!
Metabolic Conditioning
Start crushing your performance goals with this metabolic workout!  Join the class as it progresses each week with a combination of strength training, bodyweight strength, and plyometric movements with a push/pull split. Try to attend both Tuesday and Friday to train full body throughout the week.
Muscle Madness:
Wake up with this high-energy class that focuses on full body and core strength with cardio blasts. No week will be the same, so come ready for a great workout!
Stretch Break:
Have you been sitting and working hard all morning? Take a 15-minute break to reinvigorate yourself. You deserve it! Take a few minutes out of the middle of your day to stretch, relax and boost your productivity the rest of the day.
Yoga Sculpt
Join this total body workout that is perfect for ALL fitness levels.  This class will use bodyweight resistance and/or light dumbbells (2 - 8 lbs) to get your heart rate and metabolism pumping by pairing yoga poses with resistance training.  Burn calories, build healthy bone density, tone up those shoulders, biceps, and core, and leave feeling calm, strong, refreshed, and rejuvenated!
Visit our YouTube page: instafit_701 to view all our previously recorded classes. Search a specific playlist or skip around and try out a different class format each week. Make sure to subscribe!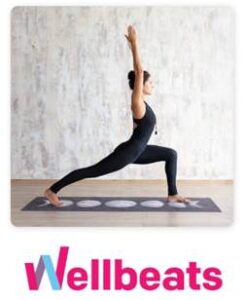 Inside the 701 Fitness studio, we have a Wellbeats kiosk. Try out these on-demand classes for every age, interest, and ability. The Wellbeats library has 600+ high quality, 1 - 60 minute videos, and 30 different channels. For those of you working from home, Wellbeats streaming services have been extended through March 31, 2021! If you have already registered, please sign back into your account to access the classes available to you. 
If you have not registered, get started in these 3 easy steps:
STEP 1:  Download the Wellbeats App or visit the website portal: portal.wellbeats.com. 
STEP 2: Select "Register Via Code" and enter invitation code: 0dc18e5d. This code is good until 3.31.2021
STEP 3: Play a fitness class! 
Schedule a Wellness Session (virtually or in-person) with an EXOS coach by emailing us (fitness@701tower.com). From there, you will discuss your goals with your coach and they will guide you toward a recommendation. We offer digital coaching through the Bridge app and personal training virtually or in-person. Your coach will build you a customized program based on your health goals, the time you have, and the equipment you have available.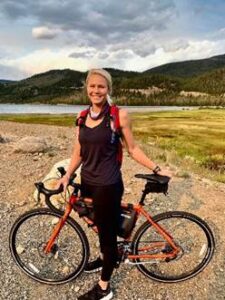 Hello, my name is Katelyn Brown and I am the Site Lead of 701 Fitness. I am excited to meet you and look forward to helping you achieve your health and wellness goals! When I am not at work, I enjoy biking, water sports, cross country skiing, camping, and time with my friends and family.  Previously, I worked at another EXOS corporate fitness center and as a Certified Personal Trainer at Anytime Fitness.
I went to the University of Wisconsin Madison and earned my Bachelor of Science degree in Kinesiology - Exercise and Movement Science. During college, I also competed for 4 years as a Division 1 rower and was part of the Big 10 Championships first-place team in 2009. I am an ACSM Certified Personal Trainer, Schwinn Cycling Instructor, certified TRX instructor, an ACE Kettlebells Specialist, Prenatal & Postnatal Exercise Specialist and I am about to finish my ACE Exercise Nutritionist Specialist Certification.
Fun fact: I climbed two 14ers (14,000+ feet) mountains this year in Colorado.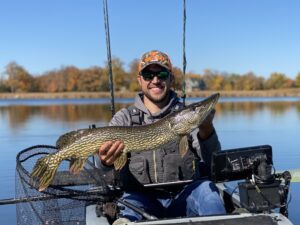 Hello! My name is Ryan Bonikowske and I am the Health Fitness Specialist at 701 Fitness. I am passionate about improving our members' overall health and well-being inside and outside of work to have a perfect life balance. When I am not at work, I enjoy weight training, kayaking, hunting, and fishing.
Before working for EXOS, I served as a Graduate Assistant Strength and Conditioning Coach at Arkansas Tech University.
I earned my master's degree in Strength and Conditioning Studies from Arkansas Tech University in 2019 and my bachelor's degree in Exercise Science from Winona State University in 2017. I am a Certified Strength and Conditioning Specialist by the National Strength and Conditioning Association and a Certified Sports Performance Coach by USA Weightlifting.